Alabama Artificial Reef Projects
Alabama has one of the largest artificial reef programs in the world thanks to the efforts of the Department of Conservation's Marine Resources Division and many committed partner organizations.
With a natural bottom that is predominately flat sand/mud type bottom, the vertical relief of a variety of artificial reefs has increased the species and overall number of fish in these areas and offered excellent diving opportunities as well. Many of the reefs, over time, appear as natural reefs with similar communities of encrusting organisms and bait fish.
Alabama's artificial reef building program started in 1953 when the Orange Beach Charter Fishing Association asked for the authority to place 250 car bodies off Baldwin County, Alabama. This proved to be very successful and in the years since, many different types of materials have been placed offshore of Alabama. These have included additional car bodies, culverts, bridge rubble, barges, boats and planes.
In 1974, in an excellent example of State/Federal cooperation, several "ghost-fleeted" liberty ships were sunk in five locations off Mobile and Baldwin Counties in 80-93 feet of water.
In 1987, the U. S. Army Corps of Engineers issude a permit creating specific areas, nearly 800 square miles, offshore of Alabama for the creation of artificial reefs.
In 1993 the U. S. military, in addressing the need to de-militarize obsolete battle tanks, realized that immersion in sea water was an acceptable solution. The idea was presented to the Marine Resources Division and development of an operation plan known as Reef-Ex began. In 1994 one-hundred M-60 military tanks were deployed as artificial reefs in depths of 70 to 110 feet of water within the Hugh Swingle and Don Kelley North permit areas. The conservative estimate for the life span of the tanks is 50 years as artificial reefs.
In late 1997, the U. S. Army Corps of Engineers authorized an expansion of Alabama's artificial reef construction areas to allow for greater freedom in reef placement and greater variety in depth. The reef program continues to be strong today, ensuring a prosperous fishing and diving environment for years to come.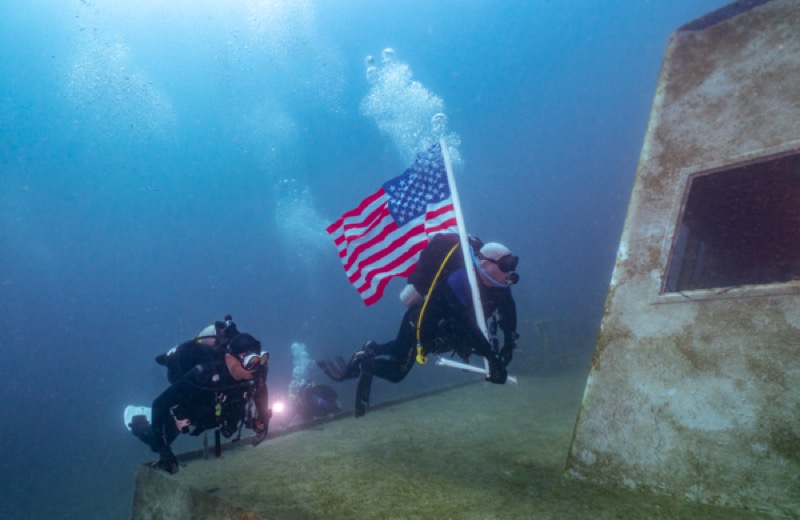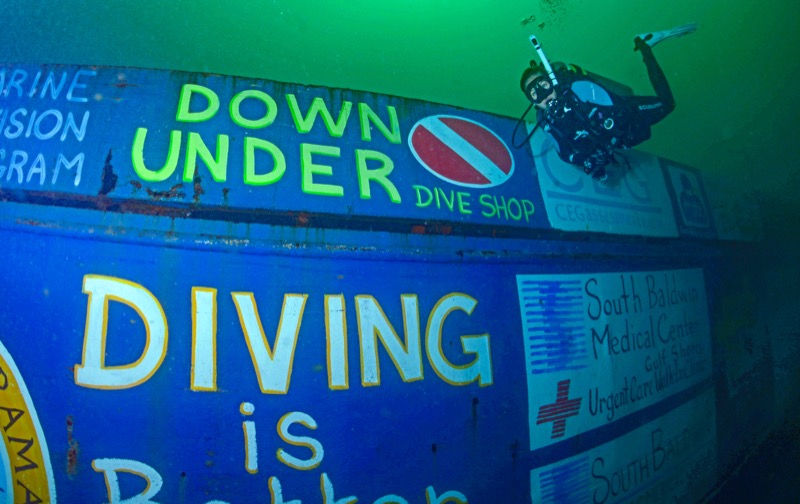 The LuLu
The LuLu (formerly M.V. Yokamu) is a 271-foot coastal freighter with a 39-foot beam that has been prepared for deployment off Alabama's coast. Removed doors, windows and hatches provide excellent diver access to the cavernous central cargo hold that's 200-foot long, 39-foot wide and 28-foot deep. Forward of the hold the ship has a very large forepeak with two large compartments. In addition, the stern has a massive superstructure that extends four levels. Each level has several rooms, including the bridge, for divers to explore and fish to colonize. Divers can even get a view of the ship from inside the wheelhouse.
At 57 feet tall, the Yokamu will be easily accessible, approximately 12 miles offshore from Gulf Shores and Orange Beach in 115 feet of water. The location will require only a short run offshore, allowing easy access for fishermen and more bottom time for recreational as well as technical divers.
Alabama Celebrates Sinking of 'The LuLu' Off Coast of Orange Beach
By Marc D. Anderson, of AL.com
Surrounded by nearly 200 boats and the Wet Willie Band playing, Alabama's first whole-ship diving reef, The LuLu, was sunk amid great fanfare early Sunday afternoon.
It was only fitting that the 271-foot retired coastal freighter when down in under 10 minutes as the entire effort to create a recreational diving mecca off Alabama's shores found fast results being less than a year old.
"It's just hard to believe that it's all coming true," Vince Lucido, president of the Alabama Gulf Coast Reef & Restoration Foundation, said of the group's effort to start a diving reef program. "We've been blessed."
The LuLu is now at the bottom of the Gulf about 17 nautical miles south of Perdido Pass in Orange Beach (latitude/longitude coordinates for the ship's wheelhouse: 29° 59.520'/87° 33.037′). The Orange Beach-based Walter Marine crew pulled the plywood off the pre-cut holes and jumped off the ship about 12:45 p.m. It was fully submerged five minutes later.
With studies in neighboring Florida showing that for every dollar invested in artificial reefs there was a return of $130 to the local economy, the foundation sprouted after David Walter of Walter Marine towed the ship from south Florida last June and pitched the idea to officials with $100,000 in seed money from the Alabama Department of Conservation and Natural Resources, Marine Division.
Kevin Anson, a biologist with the state conservation department, said the money it pledged was appropriated from Congress to help restore fisheries after the onslaught of hurricanes in the last decade. Anson said while The LuLu reef will benefit the diving industry it also has significant value in habitat restoration.
– Sinking of The LuLu off Alabama's coast, May 26, 2013 –
Less than a year after it formed to support reef development off state coastline, Alabama Gulf Coast Reef & Restoration Foundation has successfully deployed its first reef project, The LuLu, on Sunday, May 26, 2013, 17 nautical miles off the coast of Orange Beach. Walter Marine sank the 271-foot retired coastal freighter as the Wet Willie Band played on a barge about 100 yards away with nearly 200 boaters watching. The reef project is the first of three the foundation hopes to create by 2015 in an effort to tap into the lucrative scuba diving market that Florida has enjoyed on its own up until now.
"We're glad we can assist to help make this a diving destination," Anson said as the media/VIP boat arrived at the The LuLu sinking site Sunday. "Putting it on the diving map was something we were interested in."
Other interest followed from the Baldwin County Commission and the cities of Gulf Shores and Orange Beach. But the biggest contributor was Mac McAleer, a former Krispy Kreme executive who owns Homeport Marina, as he donated $250,000 toward the project. McAleer was the brainchild of the celebration with the Wet Willie Band playing on his 100-foot barge 17 miles off the coast. The celebration is set to continue with the band at LuLu's at Homeport Marina Sunday night.
State Rep. Steve McMillan, R-Gulf Shores, was also on the media/VIP boat that witnessed the sinking. He said diving reefs will bring a whole new business element to Baldwin County, which accounts for about 28 percent of the state's tourism dollars.
"I think a major thing is the fact that it's going to attract people who have not been coming into our tourism market and they've also shown that people who dive for recreation spend more per capita than some people that do other things like sunbathing," McMillan said. "So with everything considered it's really a historic day for south Alabama and for the whole state because anything we can do to generate money here helps everybody."
According to Lucido, The LuLu is just the beginning of the foundation's reef-sinking plans as it aims to sink two more ships by 2015 and establish more near-shore snorkeling opportunities.
"We're not done," Lucido said as the charter boat headed back to the Orange Beach-based Outcast Charter Docks on Sunday. "We're ready for the next one."
And Lucido is also ready to dive. If the ship clears all the safety inspections, Lucido plans to check out Alabama's newest diving reef Sunday night.
About 7 p.m., the foundation confirmed on its Facebook page that the ship is open for diving: "It's official – the LuLu has been cleared for diving! Safety team reports that she is sitting perfectly upright, visibility was already improving, top starts at 60 feet. And snapper were already hanging out! Pool's open & I suspect there will be a good crowd there in the morning!"
Poseidon's Playground
In 2014 the AGCRRF began Poseidon's Playground to create a new shallow site consisting of a network of cement statues and dedicated reefs shallow enough for novice and youth divers.
This project was the brainchild of local scuba instructor Lila Harris, who wanted to establish something closer to shore that's accessible and shallow enough for younger divers and other beginners. The reef's depth is about 38 feet, just shallower than the 40 ft. limit for kids and novice divers.
The Playground includes a number of statues, monuments and habitat. The first things put down were three Greek mythological statues — Poseidon, Apollo and Venus — and a table-like, grouper reef topped with marine life ornamental images. Additional structures have been added, including a marlin, a sailfish, a large cross. Some were donated by family members and dedicated to celebrate the life of loved ones. The statues have gotten popular and make great photo ops. Instead of a walk through the park, it's a swim through this underwater park.
An eagle has also landed in this underwater attraction, joining numerous other structures already in place. The eagle is a monument to the Boy Scouts, created by Rob Morgan as an Eagle Scout project. Rob raised the money and worked closely with Walter Marine in Orange Beach to make sure the materials were suitable for the environment before adding the eagle to the playground. The eagle is perched atop a base designed to act as a grouper reef.
Also within the playground are several small pyramid reefs with handprints of famous people attached to the sides. First in was Nicolas Cage, who was in Orange Beach filming a World War II movie. Co-star Cody Young and director Mario Van Peebles also contributed handprints in cement on one of the reefs. World-renowned underwater photographer Stephen Frink's handprints are on a turtle from Walter Marine with a plaque thanking him for showing the world underwater beauty.
Poseidon's Playground provides a great alternative as an interesting site for young divers, novice divers and people who haven't been diving in a while and may need to have an easier dive. The site lies south of Perdido Pass on the eastern edge of the R.V. Minton Artificial Reef Zone.
It is requested that boats use a "no-anchor zone" policy in the playground, and instead anchor just outside the area.
New Venture
The Fairfield New Venture was built in 1986 as a oceanographic surveying ship. The 250-foot long and 56-foot-wide ship now sits on the Gulf floor off the coast of Gulf Shores and Orange Beach in about 125 feet of water.
In it's new incarnation the New Venture is more than just a ship. After cleaning it and making sure it was environmentally friendly, holes were cut in the sides and bulkheads of the ship before it was sunk. The primary purpose of cutting the holes was to give the structure more complexity and increased habitat value for reef fish. But it also made the ship more interesting for divers. In addition to improving habitat, the holes also allow safer access and easier exit. Potential diver hazards were identified and removed or mitigated where possible.
One goal of many divers visiting the ship is to see or photograph the large mural of the ship painted on a wall inside the ship's work area.
Plans are currently being made to place an angel monument inside of the wreck that will be dedicated to diver safety.
The New Venture is must on the bucket list of any diver with adequate skills for this type of diving.
She sits in just over 120 feet of water and her orientation is pretty close to north/south.
Coordinates are 29 54.052 and 87 32.896. This is just a few miles from the 271-foot LuLu, another significant project developed and sunk by the AGCRRF 18 miles south of Perdido Pass.
Capt. Shirley Brown
BY JOHN MULLEN, Contributing Writer
The Capt. Shirley Brown was obtained by the AGCRRF from Brown's Marine in Pensacola. The vessel was a former "grand entertainment vessel" used for dinner and party excursions by a timber company in Port St. Joe.
After a cleanup in 2015 it was deployed as a reef off of Orange Beach in 85 feet of water. The concrete hull measured 128 feet, but broke into two parts when it went down, making it even more interesting for divers. It quickly attracted a variety of fish including some larger reef fish.
Thanks to Lila Harris at Aquatic Soul Photography LLC!
Alabama Gulf Coast Reef & Restoration Foundation
PO Box 7667
Gulf Shores, AL 36547